About Friends of Fenway Studios
Friends of Fenway Studios was founded in 1998 as a non-profit organization dedicated to the restoration and preservation of this National Historic Landmark building, and to raising awareness of this cultural treasure, as well as promoting the work of the artists who work in Fenway Studios.
Friends of Fenway Studios is a 501(c)(3) organization wholly supported by contributions from individuals, private foundations, and government grants. Contributions are fully tax-deductible.
In addition to members of the community, board members include artists who live and work at Fenway Studios.
The Role of Friends of Fenway Studios in Preserving and Restoring Fenway Studios Building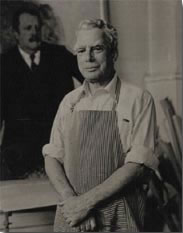 As with any older building, the cost of upkeep is enormous and particularly burdensome to a group of artists for whom income can fluctuate widely. Nonetheless, with the help of Friends of Fenway Studios, heroic efforts have been made to maintain the building.
From 2000–2003, the Friends raised nearly $1 million through grants from independent foundation and government preservation agencies and invested in the renewal of Fenway Studios. The entire building was repointed, roof and lintels replaced, and the decaying brickwork on the east, south, and west walls was repaired.
Most important was the restoration of the widely recognized Arts & Crafts fa?ade on Ipswich Street, with its distinctive parapets.
Click here for information about how to help Friends of Fenway Studios.