News & Events
News
An Artistic Weekend
Fenway Studios opened its doors to visitors
View Artistic Weekend article (The Boston Guardian)
Artist Spotlight: Anne McGhee
Finding Inspiration at the Ballpark
View Anne McGhee article (The Boston Guardian by Tanner Stening)
Artist Spotlight: Samuel Gareginyan
Boston artist makes a living commissioning folkloric paintings
View Samuel Gareginyan article
Fenway Studios Welcomes Boston Mayor Martin J. Walsh
March 30th 2016 will be recognized as a prominent day in the 111 year history of the National Historic Landmark Fenway Studios. Working with Chief of Staff Daniel Arrigg Koh, Deputy Chief of Staff Meghan Aldridge, and Scheduler Nora Doherty, Friends of Fenway Studios (FOFS) Founding President, Lynda McNally coordinated Mayor Walsh's inaugural visit.
On that sun-filled day when Mayor Walsh arrived to 30 Ipswich Street, he was welcomed at the grand entrance by McNally and Fenway Studios Former President, Robert Baart, who gave a concise and compelling history of the building.
Upon entering the 1905 purpose-built structure, the Mayor's first stop was to the studio of artist and conservator Berio Gizzi. The Mayor was impressed by incredible detail of Gizzi's work, and even tried on the magnifying eye band Gizzi wears when painting certain aspects of his work.
We left Gizzi's studio, walked to the end of the hallway and up two flights to the lovely studio of artist Nan Hass Feldman. A thunderous applause greeted the Mayor as Nan lead him down the stairs into the spacious living area where an enthusiastic group of more than fifty people including fellow Fenway Studios artists, FOFS board members, and other dedicated supporters of Fenway Studios cheered the Mayor's arrival.
During a brief welcoming presentation, Fenway Studios President, Laura Richardson, on behalf of all the Fenway Studios artists, gifted the Mayor with a stunning print of the building by fellow artist, Peter Scott, as well as a portfolio folder containing postcard examples of each Fenway Studios artist's work; additionally Richardson gave the Mayor a bound copy of the building's 1998 National Historic Landmark application.
FOFS Vice President, Libby Millar, on behalf of her fellow board members, and the Fenway Studios artists, presented to the Mayor, because of his dedication to cultivate and elevate the arts, presented the Mayor with a commemorative certificate recognizing him as the, 'Honorary Chairman' of Fenway Studios; Millar then lead everyone in a resounding toast to the Mayor.
Mayor Walsh expressed his admiration for Fenway Studios and its artists, and praised it among Boston's impressive art communities. The Mayor engaged in a lively 'Q&A' and voiced reassurance for collaborative projects with Fenway Studios, and the Fenway Cultural District.
After leaving Nan's studio, we stopped by the studio of artist Yoshi Mizutani where the Mayor viewed striking examples of his work.
We were all thrilled to have Mayor Walsh visit Fenway Studios, and as he left we again voiced that he and his administration may consider that they have an open invitation to visit anytime they wish... and we are already very much looking forward to his return visit... everyone agreed it was a picture perfect day, thank you Mayor Walsh!
Photographs by Bo Yang and Lining Feng
Click photos to enlarge.
Events
Ribbon Cutting at the YMCA
Friday, January 27, 2017
Noon to 1 pm
YMCA
316 Huntington Avenue, Boston
You are sure to be floored when you gaze upon the wall mural created by gifted artist, Luis "Luti" Castro. The enchanting mural is located in the children's daycare room of the magnificently renovated, YMCA, 316 Huntington Avenue, Boston, a proud member of the Fenway Cultural District.
YMCA Executive Director Aaron Donohue and Director of Operations Lance Kennedy invite you to celebrate in a ribbon cutting ceremony to unveil the stunning mural. You will delight in seeing Luti finalize the mural as he deftly demonstrates his craft while he paints in the remaining animals—truly a must see!
Artist representative Lynda McNally, owner, 'No Naked Walls,' coordinated the curation of the mural for the YMCA and was thrilled when Aaron and Lance immediately saw the merit and voiced interest in supporting artists and featuring their work for the public to enjoy.
Light treats will be shared. All are welcome, and we are looking forward to celebrating with you!
2017 Provence for Painters Workshops
June 27 - July 7, 2017 and July 11 - July 21, 2017
The beautiful and romantic landscape of Provence will be the inspiration for these two 10 day painting workshops with artist/teacher, Judy Ryan.
Register now, space is limited. Go to: www.provenceforpainters.com
Check this site on a regular basis for news about the upcoming schedule. If you would like advance notice of upcoming events, please see the Contact page.
From Ancient Greece to the Oval Office: Restoring New England's Historic Patrimony
If you missed the lecture by conservator and Fenway Studios artist Peter Williams From Ancient Greece to the Oval Office: Restoring New England's Historic Patrimony, you can view a video of the lecture here.
Videos
Fenway Studios Featured on WGBH
On November 7, 2014, Jared Bowen of WGBH's Open Studios program spent a large portion of his show interviewing FSI artists and touring the building. Click here to view the video.
New WCVB TV Video
On July 2, 2014, the WCVB TV 'Chronicle' series aired a short video featuring the Fenway Cultural District in which Fenway Studios had extensive coverage, including interviews with artists Mary Hughes, David Lowrey and Peter Williams in their studios.
In Spring, 2013, the Fenway Alliance put together a short video of interviews with two resident artists who discussed Fenway Studios and their relationship with Friends of Fenway Studios. This is also a way to look at a couple of studios. Click here to see the video or visit our Facebook page.
Fenway Studios Artists Talk about their Landmark Building and the Work of Friends of Fenway Studios to Restore It.
Fenway Studios, Past and Present, 2005
"Chronicle with Mary Richardson"
WCVB-TV Boston, Channel 5
In this 2004 video, Chronicle's Mary Richardson interviews artists and the then President of Friends of Fenway Studios to explore the range and character of their work and the building. Included are many works by influential artists and member of 'The Boston School'.
Exhibitions
Current & Upcoming Exhibitions
Teri Malo
Shorelines
Arden Gallery
129 Newbury Street
Boston, MA 02116
June 2 – 28, 2016
Opening reception: June 4, 2016, 4 – 6 pm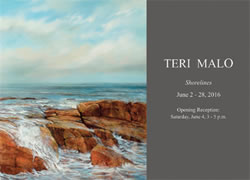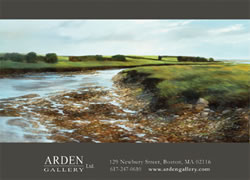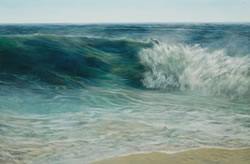 Archives

Past News & Events
Fenway Open Studios
When: November 12 & 13, 2016, 11 am – 5 pm
Where: Fenway Studios
30 Ipswich St
Boston, MA 02215
SAVE THE DATE ......Thursday, October 27th, 2016.....6pm – 9pm
Shop high-end fashion for you... ...and original fine art for your walls!
Click here for more information.
2016 Painting Workshops in Provence with Judy Ryan
Workshop Dates:
June 7th – June 17th, 2016
June 21st – July 1st, 2016
The extraordinary and legendary landscape of Provence will serve as the inspiration for these two ten-day painting workshops.
The workshops offer a creative experience which will inspire the beginner and challenge the most advanced painter.
Each workshop day provides six hours of intensive painting time, daily critiques, demonstrations. and exciting excursions.
Accommodations are at a beautifully restored french farmhouse nestled in the mountains.
Each 10-day Workshop Price includes accommodations, meals and the use of painting equipment. Space is limited to six participants, so early registration is advised. Non-painting partners are welcome.
Four Fenway Studios artists featured at "The Lansdowne Pub"
Wednesday, June 8th, 2016, 5pm - 9pm
Recent Grant for Fenway Studios
The Mission Hill / Fenway Neighborhood Trust (MHFNT) recently approved a grant application for much needed lighting improvements in the entrance and lobby of Fenway Studios. The application was prepared by Founding President Lynda McNally who accepted the check on behalf of Friends of Fenway Studios on June 13, 2014 at MASSART in the Fenway Cultural District.
The Podcast Project Boston
Enjoy podcasts by Fenway Studios artists, Berio Gizzi, David Lowrey, and Peter Williams at the Culture Now website. On the Culture Now website, simply scroll down to the appropriate artist to enjoy these podcasts. Please check the Culture Now website from time to time to hear new podcasts of other Fenway Studios artists.
Facelifts for Gloucester City Hall Murals
See following link for information about a major restoration project by Museum Services' Peter Williams in Gloucester, MA
Gloucester Times
Seminars on Artist Psychology
These seminars are for the amateur as 'one who loves' art. The emphasis is not on mastery of techniques, but upon the personality of imagination, striving for self discoveries:
the Halo: You will restore your motivation to make personal art.
the Head: You will involve with others in discerning principles....
the Heart: You will acquires skills and insight from psychology.
the Hand: You will engage in art experiences with four medias.
CREATIVITY. "come to your senses!" Nature &Mass-Clay: JAN. 3, 2014
PSYCHE. 'how do you feel?' Beauty & Color-Pastels: FEB. 7, 2014
SYMBOL. 'what do you think? Truth &Value-Charcoal: MAR. 7, 2014
SPIRIT. 'why do you imagine?' Wonder & Idea-Paint: APR 4, 2014
A PRE and a POST sessions will be held with All Four Media DEC 6th and MAY 2nd as Before and After comparisons of growth.
Directed by Henry Gates psychologist & artist: D'min-ATR teacher of Creativity nine years/Clinician 32 years/in his fourth Boston studio; has Jungian and pastoral education and returns his "Access Aesthetics" here.
The cost is $25 per, or $100 for all six seminars. held 10-12:30 (Tea at 10)
Our time is an hour for talk, a break, then an hour for play (a early word for art).
Up to four: Each person has a folder, work station; and all art media is provided.
hjgates@comcast.net 617-460-2711. @ 30 Ipswich st. #210. Boston MA
seminars on artist psychology
THE FENWAY STUDIOS: #210
ACCESS AESTHETICS: 2015
Open Studios
Saturday, November 14th & Sunday, November 15th, 2015 from 11am–5pm
Nan Hass Feldman
Celebrate With Nan and Alan: Artist Talk and Poetry Reading
Saturday, May 3, 5–7pm
Fountain Street Fine Art
We'd like to invite you to a special event to celebrate Nan's show, The Garden and Beyond: New Paintings which will be closing on May 4th, and the publication of a new book by Alan, Flowers in Wartime, with seven images by Nan.
A lecture by Conservator and Fenway Studios Artist Peter Williams
From Ancient Greece to the Oval Office: Restoring New England's Historic Patrimony
Peter Williams will discuss the highlights of his 40-year career as an art conservator at the Museum of Fine Arts, The John F. Kennedy Presidential Library and in his private practice at Fenway Studios.
Thursday, April 17th, 2014, 6:00 pm
St. Botolph Club
199 Commonwealth Avenue
Boston, MA 02116
Special Thanks to our event hosts: Ernie & Barbie Greppin and David & Lucinda Lee
If you missed the lecture by conservator and Fenway Studios artist Peter Williams From Ancient Greece to the Oval Office: Restoring New England's Historic Patrimony, you can view a video of the lecture here.
Fenway Studios Annual Open Studios
November 16 and 17, 2013
Visit to the home and studio of Elizabeth and Robert Douglas Hunter
Sunday, October 6, 4pm – 6pm
A benefit for the Friends of Fenway Studios, Boston
Please join us in this unique opportunity to view the studio of Robert Douglas Hunter, a noted Fenway Studios artist whose work hangs in the Museum of Fine Arts, Boston. The Hunters have also amassed a beautiful art collection, including important works by William McGregor Paxton, Ives Gammell, and William Morris Hunt. Carey Vose, of Vose Galleries, will provide introductory remarks about the artists and the collection.
Tickets are $60 per person, $100 per couple.
A Benefit for Friends of Fenway Studios
Please join the Friends of Fenway Studios and Vose Galleries for a lecture by Carey L. Vose, "The Innocent Eye: Charles Hopkinson and the 1913 New York Armory Show"
Wednesday, June 19th, 2013
6:00 pm: Lecture at the St. Botolph Club, 199 Commonwealth Avenue, Boston
7:00 pm: Reception and private viewing of over thirty paintings by Charles Hopkinson at Vose Galleries, 238 Newbury Street, Boston
Tickets are $25 per person, $45 per couple. You can purchase tickets online by clicking the link below or you can send a check payable to Friends of Fenway Studios to:
Vose Galleries
238 Newbury Street
Boston, MA 02116.
All proceeds will benefit the Friends of Fenway Studios, a non-profit organization committed to supporting Fenway Studios in The Fenway Cultural District of Boston's Back Bay. The Friends help to ensure its historic preservation as a Boston and National Historic Landmark, promote the Fenway artists' unique contributions to art, and safeguard affordable studio space for working artists today and for future generations.
Art New England article Living (and Working) Aloft
A two-part look at New England's live/work communities, past and present.
Read Article
MCC Designates State's First Cultural Districts
Arts Centers in Boston, Gloucester, Lynn, Pittsfield & Rockport Launch New State Initiative
(Boston, MA) - The Massachusetts Cultural Council (MCC) today named five vibrant, diverse centers for arts and cultural activity across Massachusetts as the first state-designated Cultural Districts. They are:
The Fenway Cultural District in Boston
Gloucester's Rocky Neck Cultural District
The Central Exchange Cultural District in Lynn
The Upstreet Cultural District in Pittsfield
The Rockport Cultural District
Fenway Alliance
Friends of Fenway Studios are now joint members of The Fenway Alliance which represents the cultural institutions in the Fenway Cultural District. Click here for more information on the Fenway Cultural District.
Docent Tours of Fenway Studios, May 1 & 15
To honor Preservation Month, Friends of Fenway Studios will host docent tours of Fenway Studios led by Rick Heym, AIA, President of Friends of Fenway Studios aided by a long-time resident artist. Tour will include visits to at least 3 studios with the opportunity to meet with and discuss the artist's work.
Each attendee will receive a Welcome packet that will include short histories of Friends of Fenway Studios and Fenway Studios, drawings of the original building as well as a list of artists working in the building listed by studio from its construction to the present. Note also that Fenway Studios is not wheelchair accessible and access requires climbing stairs.
Tours will be held Wednesdays, May 1 and May 15 at 5:30 PM and registration is required. To register, email contact@friendsoffenwaystudios.org, and give date and number of attendees. Cost is $25 which may be paid by clicking on the Donate button above or by check or cash at the door.
2011-2012 Studio Series Talks
These presentations were on a variety of subjects and periods of interest to lovers of art and featured connections to Fenway Studios artists. Our 2011-2012 Series focused principally on artists of 'The Boston School', many of whom had a close connection to Fenway Studios.
Open Studios 2012
Nov 3 & 4, 2012, 1am–5pm
This year was again a great success, with over 23 studios open for view, increased number of visitors and generous food donations raised for the Boston Food Bank. Exposure of Fenway Studios continues to rise as does its appeal.
Opening Our Doors
Fenway Studios participated again for the 2nd year in the area-wide cultural event sponsored by The Fenway Alliance on Monday, October 8, 2012.
Elizabeth Ives Hunter, Executive Director, Cape Cod Museum
of Art
"The Provincetown-Boston School of Painting Connection"
June 5, 2012, 6 pm
Read about Elizabeth Ives Hunter talk on boston.com website.
Lindsay Leard-Coolidge, Author and Lecturer, Northeastern University
"Philip Leslie Hale and the Matunuck Summer School of Painting"
May 1, 2012, 6 pm
Erica Hirshler, Croll Senior Curator of American Paintings, MFA
"Studios of their Own: Boston Women Artists and Fenway Studios"
April 3, 2012, 6 pm
Read about Erica Hirshler talk on "Visit Boston" website.
Theodore Stebbins, Consultative Curator of American Art, Fogg Museum, Harvard University
"The MFA, the Boston School, and Me"
November 1, 2011, 6 pm
Katherine French, Director, Danforth Museum
"Jack Kramer, Fenway Studio Artist and Boston Expressionist"
December 6, 2011, 6 pm

Past Exhibitions