News & Events
Mary Hughes Fine Art Summer News
2020 has brought a lot of challenges to everyone and making art or thinking about making art has not been on the top of my priority list. In considering what could be useful and important in our current climate, I had a flash sale of older work this past spring. My goal was to donate 50% of all profits to COVID relief funds. Through Facebook and Instagram posts, I was able to reach many of you and I appreciate all the participation! My original goal was to donate $500 but due to the generosity and enthusiasm of my social media pals, the final amount was $1000! This was then split between the Boston Fund and the City of Boston COVID-19 Relief Fund. Many Thanks!!!!
My website has been recently updated to include my newest work. You can check it out here. Long range plans include an updated web site but in the meantime, I have been updating my Etsy site with new work- Mary Hughes Fine Arts. Over the coming weeks I will be adding small works to the site. Our fall open studios at Fenway Studios has been cancelled but we will be doing a virtual event. More details to follow!
My work will be featured several group exhibits this summer. Because of ongoing concerns related to the pandemic, two of the events are strictly virtual. The third will be a real live exhibit! See details below.
First Time Ever Online Sale of 60 Works on Paper by Nan Hass Feldman
July 8th -July 28th, 2020
During this unprecedented time, when it is almost impossible to see art in person, I have been going through and finishing multi-layered mixed-media works from my travels through teaching and elsewhere. I thought it would cheer everyone up to offer these works directly to you for a one-time 50% off discount.
These works are labeled by title, size, and price on my website page LINK
They will be wrapped, boxed and shipped by USPS. All are matted and protected in clear bags.
Wrapping, Handling, & Shipping is added at $25. to cover costs (USA)
Works range from 10"x10" to 30"x30"
Payment by credit card only on Linked Page or 508-380-6222 or [email protected].
Serious Play: Introduction to Color (Online Workshop Series)
Worcester Art Museum
4 sessions
Thursdays July 09 - July 30 , 2020
9:00am - 12:00 noon
Explore the major theories and properties of color and gain practical experience in mixing and using acrylic paints. Exercises have been designed to help you create an abstract painting with recognizable subjects in a colorful and strong composition.
Sketchbook & Travel Journal with Nan Hass Feldman
Danforth Art at Framingham State University
2 sessions
Mondays Aug 10 & Aug 17
9 am - 12 noon
Learn how to capture your memorable everyday and travel experiences quickly and creatively through drawing, collage, and writing. Collect photographs, business cards, brochure pictures, and 2D mementos to preserve your cherished memories and include them in a beautifully designed illustrated journal. Each student will create many pages filled with experiences to remember, plus learn how to make a journal from scratch.
Fenway Studios 'Weekend Celebration' Open Studios 2019
More than 700 enthusiastic visitors spent a glorious weekend (November 9th & 10th) at the National Historic Landmark, 'Fenway Studios,' as the artists welcomed everyone into their creative work and living studio space. The interior design of each studio of the 1905 purpose built artist community structure is as diverse as the talent of each Fenway Studios artist; their mediums include: watercolors, pastels, oils, acrylic, mixed-medium—to name but a few.
The annual FREE community event is an excitingly joyful event that not only spotlights the artists, their work, and the architectural splendor of their grand building, but it is also an event that hosts a Food Drive to benefit the vital work of the Greater Boston Food Bank (GBFB). This year, through the generosity of the artists and our very compassionate public, over 300 pounds of non-perishable food items were collected.
Friends of Fenway Studios founding president, Lynda McNally, after learning of the tremendous work the GBFB provides to Boston and surrounding communities, proposed the Food Drive idea to the artists and immediately they all agreed it was a wonderful way to help serve the community. That was eleven years ago, and McNally said all the artists have committed to host a Food Drive during Open Studios EVERY year! Additionally she shared that ever since the first Food Drive, Fenway Studios artist, Peter Williams, has always delivered all the donated food to the GBFB's headquarters in the South End. As McNally says, "The Fenway Studios artists truly exhibit the art of caring."
Thank you to Harpist, Lishan Tan, of the Boston Conservatory at Berklee, for her stunning performance and gracious manner.
Photographs by Dan Busler Photography
Click photos to enlarge
Listen with your ears...then see with your eyes!
Two Fenway Studios artists, Ed Stitt and Keith Maddy , had their wits tested on air while participating in the lively contest, 'Friday News Quiz,' featured on the always informative and entertaining WGBH/BPR, "Jim Braude and Margery Eagan" radio show.
Friends of Fenway Studios founding president, Lynda McNally, coordinated the opportunity to have the artists appear on Jim and Margery's show, and said everyone at the WGBH, 'Newsfeed,' location at the Boston Public Library are always so welcoming, friendly, and professional. Along with Margery, filling in for Jim during the November 8th, 2019 Friday News Quiz was acclaimed art and culture reporter, as well as host of his weekly WGBH popular show, 'Open Studio,' Jared Bowen.
In between the current events questions, both Margery and Jared engaged Ed and Keith in discussions about their, annual FREE community event, "Open Studios," which was taking place on the 9th and 10th. The artists said they look forward to everyone visiting Fenway Studios so they can experience the 114 National Historic Landmark while enjoying viewing the studios, talking with the artists, and learning about what they are presently working on. They also asked, if possible, if visitors could please bring a non-perishable food item to donate to their annual Food Drive which will benefit the Greater Boston Food Bank.
A fantastic broadcast. Please click this link to hear Keith and Ed with Margery and Jared.
Fenway Studios Artist Nan Hass Feldman Featured in Boston Globe Article
Last year, Boston painter Nan Hass Feldman visited the Museo Rufino Tamayo of Pre-Hispanic Art in Oaxaca, Mexico, and was captivated by the lively, even impish Mesoamerican figurines she found there. The clay sculptures, often made to accompany the dead into the afterlife, chimed with her own ebullient aesthetic. She started drawing and painting them.
When she showed her work to Helen Meyrowitz, who runs the Art Gallery at North Hill retirement community, they struck a chord. Meyrowitz, a 91-year-old North Hill resident and artist originally from New York, opened the gallery in 2012 as a showcase for high-caliber Boston-area artists. As a graduate student of Long Island University in the 1970s, Meyrowitz helped research a pre-Columbian exhibition at the now defunct Fine Arts Museum of Long Island and acquired her own small collection of millennia-old Mexican indigenous art.
Read full Boston Globe article
October 3, 2019 Opening Reception of the MA Historical Society (MHS) and Fenway Studios Exhibition Collaborative, held at the MHS
Beginning in the Spring of 2019, Friends of Fenway Studios Founding President, Lynda McNally, initiated a conversation with the very amicable and professional MA Historical Society (MHS) associates proposing a collaborative event with the Fenway Studios artists. Working closely with MHS President Catherine Allgor, Peter Drummey, Stephen T. Riley Librarian, Brenda M. Lawson, VP for Collections, Gavin W. Kleespies, Director of Programs, Exhibitions and Community Partnerships, and Sarah Bertulli, Public Programs Coordinator, McNally expressed the many commonalities the two landmark institutions shared, and immediately, mutual interested blossomed resulting in a collaborative exhibition which featured the work of present day Fenway Studios artists alongside rarely seen work from a variety of Fenway Studios founding artists belonging to the MHS's private archival collection. This inaugural exhibition titled, "Fenway Connections: An exhibition by MHS and Fenway Studios" held its opening reception on October 3rd, 2019 at the magnificent MHS locale. During the spirited evening Fenway Studios artists and the MHS associates enthusiastically welcomed guests to the impressive exhibition. The collaboration was more than a century in the making, and yet all the pieces aesthetically dovetailed in the most visually appealing way, proving the work was always meant to appear together.
In additional to the treasured friendship that formed between Fenway Studios and the MHS throughout the collaborative preparation, it was during an exhibition-planning luncheon McNally arranged hosted by Fenway Studios artist Constance Jacobson, and attended by her fellow artists Oana Lauric, Robert Baart, and Berio Gizzi, as well as MHS associates Lawson, and Kleespies when it was revealed by Lawson that MHS would extend an opportunity to house Fenway Studios' archival materials. This tremendous gesture by the MHS will ensure the preservation of the documented history of Fenway Studios; and it is with endless appreciation to the MHS for their generosity that Fenway Studios will forever be grateful and welcomes the chance to collaborate with the MHS on another spectacular event.
Photographs by Dan Busler Photography
Click photos to enlarge.
Tuscany Painting Workshop 2020
The Tuscany Painting Workshop has been rescheduled for same time next year.
Interpreting the Tuscan Landscape through Drawing, Painting and Mixed Media
San Fedele, Tuscany, Italy
May 30, 2020 - June 6, 2020
Limited to 8-10
Includes
Shared double room in restored monastery (singles available at a supplement)
Daily traditional breakfast and dinner, including wine
Daily painting classes and critiques
Excursion to Siena
½ day painting excursions to nearby plein air settings and hilltowns (Monteriggioni, Radda, Volpaia…)
Pick up from Florence train station at 3:30pm on arrival Saturday
Transfer to bus/train station in Siena (not Florence) on final day
Cost: $2,995.00
Contact for more information: [email protected] or speak to Michael or Linda live at 800-990-3506.
Fall 2018 Newsletter
Mary Brewster Hazelton Painting Returns Home
By Kathleen Fahey, Curator
July 12, 2018
A lovely c.1915 oil painting by Mary Brewster Hazelton returned "home" last month when it was delivered to the Fenway Studios in Boston for conservation. Hazelton (1868-1953) graduated from the School of the Museum of Fine Arts in 1892 and was one of many notable artists who occupied the Fenway Studios after they were opened in 1905 on Ipswich Street. Hazelton had a studio on the third floor and enjoyed the natural light provided by the twelve-foot-high, north-facing windows. The painting titled "Nina Rubinoff" was likely painted in this studio and was donated to the Wellesley Historical Society in 1986 by a local Wellesley family.
The painting was in need of cleaning, paint consolidation, and repair of a small tear it sustained before it was donated. I had the pleasure of dropping the painting off at the Fenway Studios office of painting conservator Peter Williams. Peter's spacious, first floor studio was flooded with natural light as he gave me a tour of his workspace, which would have been similar in size and shape to Hazelton's studio on the third floor. Peter will use museum-quality conservation techniques to bring this painting back to life and ensure that it can be enjoyed for another hundred years.
The Wellesley Historical Society has a collection of sixty paintings by Mary Brewster Hazelton as well as hundreds of sketches. The Society also houses the Hazelton family papers featuring Mary's personal and business correspondence. Many of Hazelton's paintings are in need of conservation and the Society is accepting donations for the care and restoration of this important collection. To donate, please send a check to "Wellesley Historical Society" to the attention of Kathleen Fahey, Curator at 229 Washington Street, Wellesley, MA 02481.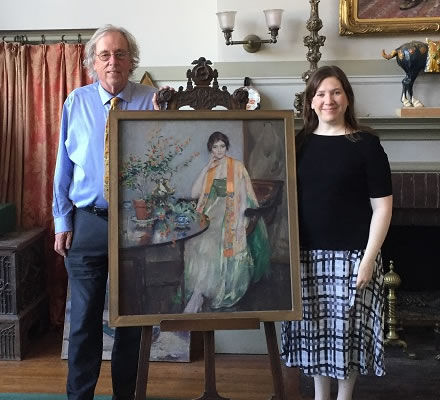 Peter Williams and Kathleen Fahey with Hazelton's c.1915 painting entitled "Nina Rubinoff." Rubinoff worked as an artist's model and was a friend of Hazelton.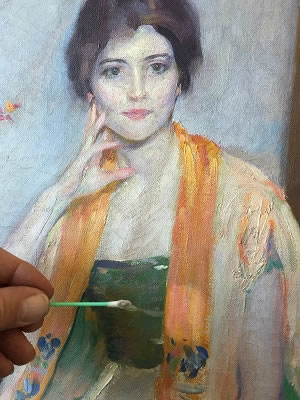 Peter Williams uses a conservation-grade solvent to reveal the original color of the painting hidden under 100 years of grime.
Click here to learn more about Mary Brewster Hazelton.
Click here to visit Peter William's website.
Fenway Artists receive grant for "Open Studios"
Nan Hass Feldman, Chair of "Open Studios" and Fenway Studios artistm has just learned that "Fenway Open Studios" will receive a $1,000 grant from the city Mayor's Office of Arts and Culture "Opportunity Fund." The grant is the result of the efforts of Julia Ryan, who is the Artist Resource Manager in the Mayor's Office of Arts and Culture, and will help defray costs of PR, Designer services, printing, entertainment and other expenses.
Good work, Nan.
Restoration of the North Facade to Begin
Fenway Studios Housing Cooperative and Friends of Fenway Studios are excited that at long last we are able to begin restoration of the trademark north façade. Grants have been received from the Massachusetts Historical Commission and the Henderson Foundation, and together with a Prupac grant, we will be able to begin restoration of the integrity of the building envelope by repairing brickwork and flashing and replacing decayed and inappropriate aluminum sash with high quality, historically accurate windows. The disintegrated water table, window jambs and sills will be rebuilt in this phased construction process that will begin with a prototype bay at the west end and continue over the entire north façade as funds become available.
Award winning preservation architects Spencer and Vogt Group of Charlestown are soliciting bids from several specialists and expect the construction contract to be awarded in March, with work completed by the end of June.
Key to the approval of our grant applications has been the commitment by Fenway Studios Housing Cooperative to create a permanent accessible public gallery/flex space within the building for exhibitions, talks, lectures, meetings, workshops and fundraising, creating a "community benefit."
| | |
| --- | --- |
| | |
| Masonry testing | Ross Dekel of MHC and architect Art Vogt inspect masonry |
| | |
| Teri Malo & Ellen Haiken | Fenway Studios front |
Open Studios Nov 11–12, 2017
Click photos to enlarge.
Fenway Studios artists raise their voices in thanks to,
'Friends of Fenway Studios,'
for underwriting the raising of the OPEN STUDIOS banners.
To herald the arrival of the annual, Fenway Studios 'OPEN STUDIOS' Weekend Celebration, this year taking place November 11th and 12th, 11am – 5pm, the non-profit organization, Friends of Fenway Studios (FOFS) has generously funded five sets of custom, 'Open Studios,' banners.
Founding FOFS president, Lynda McNally, shared the exciting news of the board's approval of her proposal for the banner project, "They immediately understood the promotional impact the banners would create; and they agreed the banners provided a great opportunity to visually welcome the public to Fenway Studios." The impressive banners stand tall at the corner of Mass Ave and Boylston Street, as well as at the corner of Boylston and Hemenway, and directly in front of Fenway Studios, 30 Ipswich Street.
Professional photographer and graphic designer, Anastasia Bogushevsky-Gareginyan, www.dekko2.com created the striking banner images. "Anastasia really captured the imposing architectural construction of Fenway Studios," remarked FOFS president Vcevy Strekalovsky, "and the production and installation of the banners was effortless working with local manufacturer, Accent Banner."
In addition to featuring over twenty gifted and diverse artists during Open Studios, Fenway Studios also annually hosts a food drive to benefit the tremendous work by the, 'Greater Boston Food Bank.' If possible, we would be grateful if you could bring a non-perishable food item(s) when you visit, thank you so very much and we look forward to seeing you in November.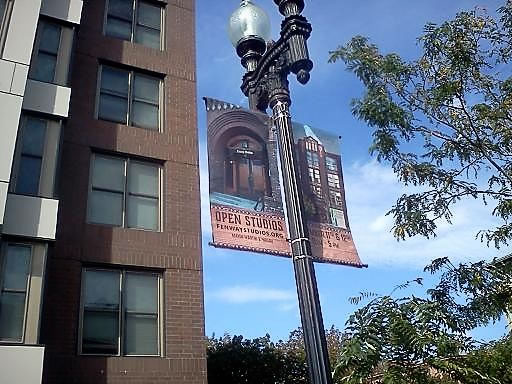 Two Fenway Studios artists will ART-ticulate their answers on WGBH's Jim Braude and Margery Eagan's
NEWS QUIZ
Mark your calendars for Friday, November 10th, 2017, 1:25pm………..when Fenway Studios artists Nan Hass Feldman and Peter Scott will be participating in Jim and Margery's NEWS QUIZ, as well as discussing the history of the National Landmark, while appearing on the WGBH Boston Public Radio show, broadcast live from the Newsfeed Café, at the Boston Public Library, 700 Boylston Street.
Please join us for what will surely be a spirited segment……bring your friends and family, but, arrive on time, for it's certain to be SRO! However, if your schedule will not allow you to attend, please treat yourself and listen to the broadcast live streamed on 89.7 FM.
"It is very exciting to have the Fenway Studios artists partake in the NEWS QUIZ; everyone is such a fan of Margery and Jim's show," stated Lynda McNally, founding president of Friends of Fenway Studios who coordinated the WGBH opportunity, "their shows are always topical, thought-provoking, and informative, it will definitely be a wonderfully engaging afternoon."
We hope to see you on November 10th at the Newsfeed Café…….but if you cannot attend……please be sure to TUNE IT!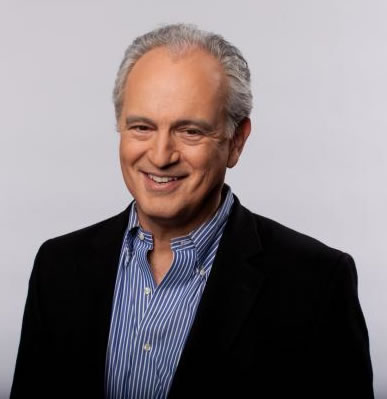 Jim Braude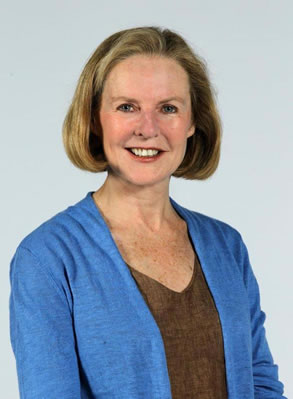 Margery Eagan
The Fenway Community Development Corporation,
Once Again, Tempts the Community's Taste Buds!
On September 21st, 2017, the Fenway neighborhood experienced another delectable and incredibly deeeeelicious fun and festive evening during the annual, 'Taste of the Fenway,' (TOTF) hosted by the non-profit organization, Fenway Community Development Corporation (FCDC).
Friends of Fenway Studios founding president, Lynda McNally, coordinated with the TOTF's dynamic event organizer, Iris Tan, and this year she shared the TOTF both with Fenway Studios artist, Nan Hass Feldman, and her husband, poet Alan Feldman, resulting in a very lively and creatively interactive evening for everyone.
We sincerely thank all our friends at the FCDC for this spectacular opportunity, and for their unwavering commitment to the Fenway neighborhood. We are already counting down the days (but never counting the calories) until next year's fantastic food festival in the Fenway!!
View photosfrom Taste of the Fenway 2017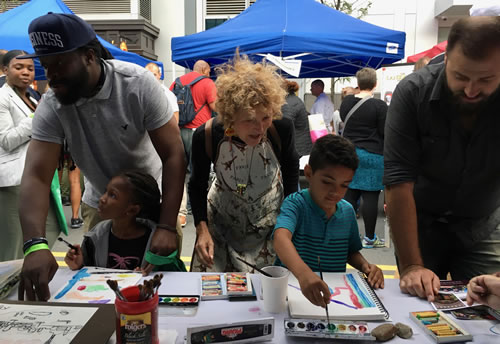 Nan Hass Feldman with Aspiring Artists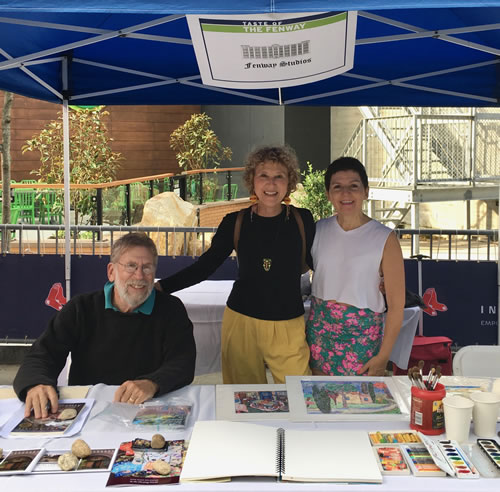 TOTF 2017 Alan Feldman, Nan Hass Feldman, Lynda McNally
Check this site on a regular basis for news about the upcoming schedule. If you would like advance notice of upcoming events, please see the Contact page.
Fenway Studios Welcomes Boston Mayor Martin J. Walsh
March 30th 2016 will be recognized as a prominent day in the 111 year history of the National Historic Landmark Fenway Studios. Working with Chief of Staff Daniel Arrigg Koh, Deputy Chief of Staff Meghan Aldridge, and Scheduler Nora Doherty, Friends of Fenway Studios (FOFS) Founding President, Lynda McNally coordinated Mayor Walsh's inaugural visit.
During a brief welcoming presentation, Fenway Studios President, Laura Richardson, on behalf of all the Fenway Studios artists, gifted the Mayor with a stunning print of the building by fellow artist, Peter Scott, as well as a portfolio folder containing postcard examples of each Fenway Studios artist's work; additionally Richardson gave the Mayor a bound copy of the building's 1998 National Historic Landmark application.
FOFS Vice President, Libby Millar, on behalf of her fellow board members and the Fenway Studios artists, presented to the Mayor, because of his dedication to cultivate and elevate the arts, with a commemorative certificate recognizing him as the, 'Honorary Chairman' of Fenway Studios.
Mayor Walsh expressed his admiration for Fenway Studios and its artists, and praised it among Boston's impressive art communities. The Mayor engaged in a lively 'Q&A' and voiced reassurance for collaborative projects with Fenway Studios, and the Fenway Cultural District.
Photographs by Bo Yang and Lining Feng
Click photos to enlarge.
Videos
From Ancient Greece to the Oval Office: Restoring New England's Historic Patrimony
If you missed the lecture by conservator and Fenway Studios artist Peter Williams From Ancient Greece to the Oval Office: Restoring New England's Historic Patrimony, you can view a video of the lecture here.
Fenway Studios Featured on WGBH
On November 7, 2014, Jared Bowen of WGBH's Open Studios program spent a large portion of his show interviewing FSI artists and touring the building. Click here to view the video.
New WCVB TV Video
On July 2, 2014, the WCVB TV 'Chronicle' series aired a short video featuring the Fenway Cultural District in which Fenway Studios had extensive coverage, including interviews with artists Mary Hughes, David Lowrey and Peter Williams in their studios.
In Spring, 2013, the Fenway Alliance put together a short video of interviews with two resident artists who discussed Fenway Studios and their relationship with Friends of Fenway Studios. This is also a way to look at a couple of studios. Click here to see the video or visit our Facebook page.
Fenway Studios Artists Talk about their Landmark Building and the Work of Friends of Fenway Studios to Restore It.
Fenway Studios, Past and Present, 2005
"Chronicle with Mary Richardson"
WCVB-TV Boston, Channel 5
In this 2004 video, Chronicle's Mary Richardson interviews artists and the then President of Friends of Fenway Studios to explore the range and character of their work and the building. Included are many works by influential artists and member of 'The Boston School'.
Exhibitions
Current & Upcoming Exhibitions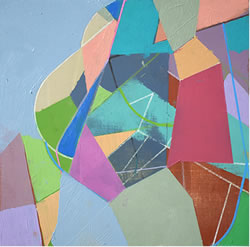 Mary Hughes
Mary Hughes
Rhythm + Hues
Small Works Virtual Summer Exhibit
Copley Society of Art
June 4 - August 31, 2020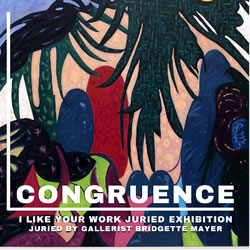 Mary Hughes
Mary Hughes
Congruence
I Like Your Work Summer Juried Show (Virtual)
Juried by gallerist Bridgette Mayer
Summer 2020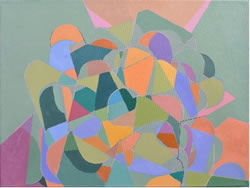 Mary Hughes
Mary Hughes
Reflections
Summer Members Exhibition
Copley Society of Art
July 30 - August 31, 2020
Archives

Past News & Events
Fenway Open Studios
November 9th & 10th, 2019, 11 am - 5 pm
Free and open to the public
Donations to the Boston Food Bank will be appreciated
Over 20 artists will be exhibiting including: Nan Hass Feldman, Samuel Gareginyan, Anne McGhee Teri Malo, Alexander Gassel, Robert Bart, Ken Kelleher David Lowrey, Laura Alice Richardson, Sidney Hurwitz, Peter Williams, Ed Stitt, Denise Lindquist, Mary Hughes, Ellen Haiken, Constance Jacobson, Beverly Sky, Deborah Kravitz, Oana Lauric, and Anne Harney
Fenway Studios
30 Ipswich St
boston, MA 02215
The First Collaboration Between the Massachusetts Historical Society and Fenway Studios
This temporary exhibition will celebrate the history and evolution of Fenway Studios by shining a light on contemporary work produced by current members alongside rarely shown paintings from the MHS collection created by past Fenway Studios artists.

Opening reception
Thursday, October 3, 2019, 5:30PM - 7:30PM
This opening reception is free and open to the public.
The exhibition will run from October 3 -19, 2019 and is free and open to the public.
Gallery hours:
Mon, Wed, Thu, Fri, and Sat: 10:00 am to 4:00 pm
Tue: 10:00 am to 7:00 pm.
Click here for more information
Fenway Open Studios
Over 20 artists will be exhibiting
Free and open to the public
Donations to the Boston Food Bank will be appreciated
When: November 10 & 11, 2018, 11am – 5pm
Where: Fenway Studios
30 Ipswich St
Boston, MA 02215
2017 Provence for Painters Workshops
June 27 - July 7, 2017 and July 11 - July 21, 2017
The beautiful and romantic landscape of Provence will be the inspiration for these two 10 day painting workshops with artist/teacher, Judy Ryan.
Register now, space is limited. Go to: www.provenceforpainters.com
Ribbon Cutting at the YMCA
Friday, January 27, 2017
Noon to 1 pm
YMCA
316 Huntington Avenue, Boston
You are sure to be floored when you gaze upon the wall mural created by gifted artist, Luis "Luti" Castro. The enchanting mural is located in the children's daycare room of the magnificently renovated, YMCA, 316 Huntington Avenue, Boston, a proud member of the Fenway Cultural District.
YMCA Executive Director Aaron Donohue and Director of Operations Lance Kennedy invite you to celebrate in a ribbon cutting ceremony to unveil the stunning mural. You will delight in seeing Luti finalize the mural as he deftly demonstrates his craft while he paints in the remaining animals—truly a must see!
Artist representative Lynda McNally, owner, 'No Naked Walls,' coordinated the curation of the mural for the YMCA and was thrilled when Aaron and Lance immediately saw the merit and voiced interest in supporting artists and featuring their work for the public to enjoy.
Light treats will be shared. All are welcome, and we are looking forward to celebrating with you!
An Artistic Weekend
Fenway Studios opened its doors to visitors
View Artistic Weekend article (The Boston Guardian)
Artist Spotlight: Anne McGhee
Finding Inspiration at the Ballpark
View Anne McGhee article (The Boston Guardian by Tanner Stening)
Artist Spotlight: Samuel Gareginyan
Boston artist makes a living commissioning folkloric paintings
View Samuel Gareginyan article
Fenway Open Studios
When: November 12 & 13, 2016, 11 am – 5 pm
Where: Fenway Studios
30 Ipswich St
Boston, MA 02215
SAVE THE DATE ......Thursday, October 27th, 2016.....6pm – 9pm
Shop high-end fashion for you... ...and original fine art for your walls!
Click here for more information.
2016 Painting Workshops in Provence with Judy Ryan
Workshop Dates:
June 7th – June 17th, 2016
June 21st – July 1st, 2016
The extraordinary and legendary landscape of Provence will serve as the inspiration for these two ten-day painting workshops.
The workshops offer a creative experience which will inspire the beginner and challenge the most advanced painter.
Each workshop day provides six hours of intensive painting time, daily critiques, demonstrations. and exciting excursions.
Accommodations are at a beautifully restored french farmhouse nestled in the mountains.
Each 10-day Workshop Price includes accommodations, meals and the use of painting equipment. Space is limited to six participants, so early registration is advised. Non-painting partners are welcome.
Four Fenway Studios artists featured at "The Lansdowne Pub"
Wednesday, June 8th, 2016, 5pm - 9pm
Recent Grant for Fenway Studios
The Mission Hill / Fenway Neighborhood Trust (MHFNT) recently approved a grant application for much needed lighting improvements in the entrance and lobby of Fenway Studios. The application was prepared by Founding President Lynda McNally who accepted the check on behalf of Friends of Fenway Studios on June 13, 2014 at MASSART in the Fenway Cultural District.
The Podcast Project Boston
Enjoy podcasts by Fenway Studios artists, Berio Gizzi, David Lowrey, and Peter Williams at the Culture Now website. On the Culture Now website, simply scroll down to the appropriate artist to enjoy these podcasts. Please check the Culture Now website from time to time to hear new podcasts of other Fenway Studios artists.
Facelifts for Gloucester City Hall Murals
See following link for information about a major restoration project by Museum Services' Peter Williams in Gloucester, MA
Gloucester Times
Seminars on Artist Psychology
These seminars are for the amateur as 'one who loves' art. The emphasis is not on mastery of techniques, but upon the personality of imagination, striving for self discoveries:
the Halo: You will restore your motivation to make personal art.
the Head: You will involve with others in discerning principles....
the Heart: You will acquires skills and insight from psychology.
the Hand: You will engage in art experiences with four medias.
CREATIVITY. "come to your senses!" Nature &Mass-Clay: JAN. 3, 2014
PSYCHE. 'how do you feel?' Beauty & Color-Pastels: FEB. 7, 2014
SYMBOL. 'what do you think? Truth &Value-Charcoal: MAR. 7, 2014
SPIRIT. 'why do you imagine?' Wonder & Idea-Paint: APR 4, 2014
A PRE and a POST sessions will be held with All Four Media DEC 6th and MAY 2nd as Before and After comparisons of growth.
Directed by Henry Gates psychologist & artist: D'min-ATR teacher of Creativity nine years/Clinician 32 years/in his fourth Boston studio; has Jungian and pastoral education and returns his "Access Aesthetics" here.
The cost is $25 per, or $100 for all six seminars. held 10-12:30 (Tea at 10)
Our time is an hour for talk, a break, then an hour for play (a early word for art).
Up to four: Each person has a folder, work station; and all art media is provided.
[email protected] 617-460-2711. @ 30 Ipswich st. #210. Boston MA
seminars on artist psychology
THE FENWAY STUDIOS: #210
ACCESS AESTHETICS: 2015
Open Studios
Saturday, November 14th & Sunday, November 15th, 2015 from 11am–5pm
Nan Hass Feldman
Celebrate With Nan and Alan: Artist Talk and Poetry Reading
Saturday, May 3, 5–7pm
Fountain Street Fine Art
We'd like to invite you to a special event to celebrate Nan's show, The Garden and Beyond: New Paintings which will be closing on May 4th, and the publication of a new book by Alan, Flowers in Wartime, with seven images by Nan.
A lecture by Conservator and Fenway Studios Artist Peter Williams
From Ancient Greece to the Oval Office: Restoring New England's Historic Patrimony
Peter Williams will discuss the highlights of his 40-year career as an art conservator at the Museum of Fine Arts, The John F. Kennedy Presidential Library and in his private practice at Fenway Studios.
Thursday, April 17th, 2014, 6:00 pm
St. Botolph Club
199 Commonwealth Avenue
Boston, MA 02116
Special Thanks to our event hosts: Ernie & Barbie Greppin and David & Lucinda Lee
If you missed the lecture by conservator and Fenway Studios artist Peter Williams From Ancient Greece to the Oval Office: Restoring New England's Historic Patrimony, you can view a video of the lecture here.
Fenway Studios Annual Open Studios
November 16 and 17, 2013
Visit to the home and studio of Elizabeth and Robert Douglas Hunter
Sunday, October 6, 4pm – 6pm
A benefit for the Friends of Fenway Studios, Boston
Please join us in this unique opportunity to view the studio of Robert Douglas Hunter, a noted Fenway Studios artist whose work hangs in the Museum of Fine Arts, Boston. The Hunters have also amassed a beautiful art collection, including important works by William McGregor Paxton, Ives Gammell, and William Morris Hunt. Carey Vose, of Vose Galleries, will provide introductory remarks about the artists and the collection.
Tickets are $60 per person, $100 per couple.
A Benefit for Friends of Fenway Studios
Please join the Friends of Fenway Studios and Vose Galleries for a lecture by Carey L. Vose, "The Innocent Eye: Charles Hopkinson and the 1913 New York Armory Show"
Wednesday, June 19th, 2013
6:00 pm: Lecture at the St. Botolph Club, 199 Commonwealth Avenue, Boston
7:00 pm: Reception and private viewing of over thirty paintings by Charles Hopkinson at Vose Galleries, 238 Newbury Street, Boston
Tickets are $25 per person, $45 per couple. You can purchase tickets online by clicking the link below or you can send a check payable to Friends of Fenway Studios to:
Vose Galleries
238 Newbury Street
Boston, MA 02116.
All proceeds will benefit the Friends of Fenway Studios, a non-profit organization committed to supporting Fenway Studios in The Fenway Cultural District of Boston's Back Bay. The Friends help to ensure its historic preservation as a Boston and National Historic Landmark, promote the Fenway artists' unique contributions to art, and safeguard affordable studio space for working artists today and for future generations.
Art New England article Living (and Working) Aloft
A two-part look at New England's live/work communities, past and present.
Read Article
MCC Designates State's First Cultural Districts
Arts Centers in Boston, Gloucester, Lynn, Pittsfield & Rockport Launch New State Initiative
(Boston, MA) - The Massachusetts Cultural Council (MCC) today named five vibrant, diverse centers for arts and cultural activity across Massachusetts as the first state-designated Cultural Districts. They are:
The Fenway Cultural District in Boston
Gloucester's Rocky Neck Cultural District
The Central Exchange Cultural District in Lynn
The Upstreet Cultural District in Pittsfield
The Rockport Cultural District
Fenway Alliance
Friends of Fenway Studios are now joint members of The Fenway Alliance which represents the cultural institutions in the Fenway Cultural District. Click here for more information on the Fenway Cultural District.
Docent Tours of Fenway Studios, May 1 & 15
To honor Preservation Month, Friends of Fenway Studios will host docent tours of Fenway Studios led by Rick Heym, AIA, President of Friends of Fenway Studios aided by a long-time resident artist. Tour will include visits to at least 3 studios with the opportunity to meet with and discuss the artist's work.
Each attendee will receive a Welcome packet that will include short histories of Friends of Fenway Studios and Fenway Studios, drawings of the original building as well as a list of artists working in the building listed by studio from its construction to the present. Note also that Fenway Studios is not wheelchair accessible and access requires climbing stairs.
Tours will be held Wednesdays, May 1 and May 15 at 5:30 PM and registration is required. To register, email [email protected], and give date and number of attendees. Cost is $25 which may be paid by clicking on the Donate button above or by check or cash at the door.
2011-2012 Studio Series Talks
These presentations were on a variety of subjects and periods of interest to lovers of art and featured connections to Fenway Studios artists. Our 2011-2012 Series focused principally on artists of 'The Boston School', many of whom had a close connection to Fenway Studios.
Open Studios 2012
Nov 3 & 4, 2012, 1am–5pm
This year was again a great success, with over 23 studios open for view, increased number of visitors and generous food donations raised for the Boston Food Bank. Exposure of Fenway Studios continues to rise as does its appeal.
Opening Our Doors
Fenway Studios participated again for the 2nd year in the area-wide cultural event sponsored by The Fenway Alliance on Monday, October 8, 2012.
Elizabeth Ives Hunter, Executive Director, Cape Cod Museum
of Art
"The Provincetown-Boston School of Painting Connection"
June 5, 2012, 6 pm
Read about Elizabeth Ives Hunter talk on boston.com website.
Lindsay Leard-Coolidge, Author and Lecturer, Northeastern University
"Philip Leslie Hale and the Matunuck Summer School of Painting"
May 1, 2012, 6 pm
Erica Hirshler, Croll Senior Curator of American Paintings, MFA
"Studios of their Own: Boston Women Artists and Fenway Studios"
April 3, 2012, 6 pm
Read about Erica Hirshler talk on "Visit Boston" website.
Theodore Stebbins, Consultative Curator of American Art, Fogg Museum, Harvard University
"The MFA, the Boston School, and Me"
November 1, 2011, 6 pm
Katherine French, Director, Danforth Museum
"Jack Kramer, Fenway Studio Artist and Boston Expressionist"
December 6, 2011, 6 pm

Past Exhibitions
Mary Hughes
New Optics
Painting Center in NYC
547 West 27th St
Suite 500
New York, NY 10001
Through January 2 - 25, 2020
Opening Reception: January 9, 2020, 6-8pm
Nan Hass Feldman
Personae Gratae: Begin at Home
Highfield Hall & Gardens
56 Highfield Dr
Falmouth, MA 02541
January 28 - March 22, 2020
Mary Hughes
Co/So Artists: Small Works: embark
Copley Society of Art
158 Newbury St
Boston, MA 02116
Through December 5, 2019
Nan Hass Feldman
Travel in Time - Mexico 250Ad to 2019 AD
The Gallery at North Hill
865 Central Avenue
Needham, MA 02492
October - December, 2019
Opening Reception: Monday, Oct 21, 2019, 4-7pm
Artist talk at opening
Mary Hughes
Fenway Connections
Massachusetts Historical Society
1154 Boylston St
Boston, MA 02115
Through October 3 - 19, 2019
Ed Stitt
Walking Distance
Gallery Naga
67 Newbury St
Boston, MA 02116
Sep 3 - 28, 2019
Mary Hughes
Renewal
Copley Society of Art
158 Newbury St
Boston, MA 02116
Feb 28 - Mar 28, 2019
Gyorgy Kepes
The Discipline of Forming
Alpha Gallery
460C Harrison Ave
Suite 1
Boston, MA 02118
May 4 - 30, 2018
Honoring the 50th anniversary of the founding of the Center for Advanced Visual Studies at MIT
Mary Hughes
In Line
Gallery 360
Northeastern University
Boston, MA
March 13 - April 23, 2018
Nan Hass Feldman
ARTEXPO, NYC
World Wide Art-Artavita, Booth #351
Pier 94, 711 12th Ave, NYC (55th Street & West Side Highway)
April 19 - 22, 2018
Robert Baart
Woods & Water — New England Landscapes
M Fine Arts Galerie
61 Thayer Street
Boston, MA 02118
May 4 - 29, 2018
Nan Hass Feldman
Views From the East Art Exhibit
Featuring the works of eight artists, each using a different medium to express the traditions of Eastern cultures.
Three Stones Gallery
115 Commonwealth Ave
Concord, MA
January 17 - March 17, 2018
Teri Malo
New Solo Show
Artana Gallery
462 Tamiami Trail N.
Naples, FL 34102
February 2 - February 28, 2018
Kayla Mohammadi
Weather Pending
A Group Show of work by thirteen gallery artists
Caldbeck Gallery
12 Elm Street
Rockland, Maine 04841
January – February, 2018
Teri Malo
Shorelines
Arden Gallery
129 Newbury Street
Boston, MA 02116
June 2 – 28, 2016
Ed Stitt
40 Year Restrospective
Barrington Center for the Arts, Gordon Gallery
255 Grapevine Rd
Wenham, MA 01984
Feb 27 – Apr 27, 2016
Hours: Mon – Sat, 9 am – 7 pm