Fenway Studios History
Historically, Fenway Studios building is closely associated with the Boston School of painting. It came to be built because early in the 1900s, many of Boston's best-known artists lost their studios and life's works in a disastrous fire at the Harcourt Studios on Irvington Street in Boston, and many barely escaped with their lives.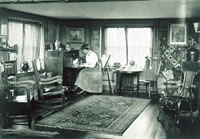 Fenway Studios was designed so that every one of the 46 studios would have north-facing windows, 12 feet high. The interior plan, with 14-foot high ceilings, was inspired by the 19th century atelier studios in Paris, where many of the original artists had studied. The building, of classic Arts & Crafts design with clinker brick exterior, is located on Ipswich Street in the Back Bay.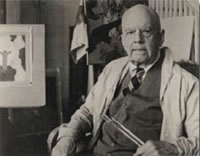 Fenway Studios is a National Historic Landmark building. It is the oldest continuously functioning building in the country constructed for and dedicated solely to artists' space. The Studios are also the first in the country to pioneer a not-for-profit limited-equity form of ownership. In order to maintain rents at an affordable level, artists are not permitted to profit from the sale of their units, save an adjustment for inflation.
Today, artists who reside at Fenway Studios paint in a variety of styles from abstract expressionism to post-modern realism. Some continue in the Boston School tradition and teach new generations of artists, but many others work in other traditions and materials, both modern and classic.
The building is open to the public one weekend a year for the annual Open Studios and holiday sale.
The History of Fenway Studios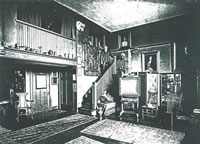 The founding of Fenway Studios is closely intertwined with the cultural, intellectual, social, and economic history of Boston, a city known at the time for its burgeoning artist community. A fire at the Harcourt Studios on Irvington Street in 1904, where many artists lost their studios and life's work, galvanized business and civic leaders to help rebuild space for Boston's artist community as quickly as possible.
Members of the Copley Society and the St. Botolph Club joined together and went to work on having a new building designed and built. A Committee of Arrangement was swiftly appointed to plan and organize the effort and call for submission of proposals for the design of a building that was to be planned specifically for artists' studio and living space.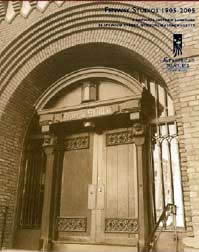 It was the Gilded Age, and Boston — then considered the Athens of America — had developed a passion for painting. Boston's business and civic leaders promptly raised money to hire the architectural firm of Parker and Thomas, which submitted the winning proposal to provide a modern design for the construction of a building to be entirely devoted to artists' studios, sited on Ipswich Street along the edge of the Fenway. The winning bid was selected just seven weeks from the day the Committee had been appointed.
The Committee consisted of five members, four of them prominent artists of the day: Hermann Dudley Murphy, Frank Weston Benson, Thomas Allen, and William Worcester Churchill. The fifth Committee member was William Chester Chase, an architect married to the artist Adelaide Cole Chase.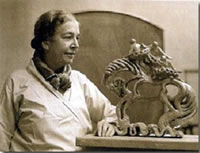 In just three months, members of prominent families, led by George E. Cabot and Henry Parkman, raised $90,000 from subscribers, who pledged $1000 or more to form the original Trust, and persuaded a philanthropic-minded businessman to donate the land.
Originally designed in the Beaux-Arts style that was then in vogue, it was decided that something in a "modern" style was more suitable, and the Arts and Crafts design, influenced by the Aesthetic Movement then prevailing in England, was accepted.
A list of four requirements for the building, in order of their importance, was drawn up by artists: abundant north light, spacious rooms, convenient location, and affordable rents. The original artists moved into Fenway Studios in 1905.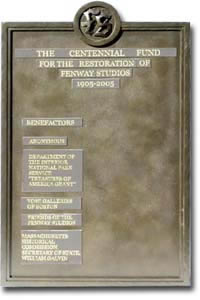 During its early history, a number of prominent artists and teachers worked here. They include Edmund Tarbell, Joseph DeCamp, William Paxton, Philip Hale, Lilian Wescott Hale, George L. Noyes, Marion Boyd Allen, Lilla Cabot Perry, Mary Bradish Titcomb, William Kaula, Lee Lufkin Kaula, Lillian and Leslie Prince Thompson, Charles Hopkinson, and Marion L. Pooke. These are referred to as painters of the Boston School.
After World War II, painter, author and teacher Ives Gammell, who had studied with William Paxton, established a rigorous teaching atelier for promising students. His classes, for which he did not charge, required a daily schedule of drawing and painting from a model in natural light. At a time when abstract expression began to dominate the art world, he taught his students traditional European academic methods that were being discarded by art schools and dismissed as old-fashioned. Gammell may be credited with helping to save a precious artistic heritage and passing it on to a new generation. Today, some of his students have become teachers themselves and thus continue the Boston School tradition.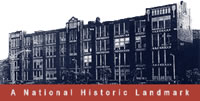 Artists working during the post-World War II era included Gardner Cox, who painted portraits of Harvard presidents, four Secretaries of State and several Supreme Court Justices. Artist Mary Reardon designed murals for the National Shrine of the Immaculate Conception in Washington, and sculptor Amelia Peabody and painter Polly Thayer kept studios in the building. Gyorgy Kepes, an internationally recognized artist, painted at Fenway Studios and founded the School of Advanced Visual Studies at MIT.
By 1974, shares of the building had long since passed on to the heirs of the original trust. The building was not being properly maintained and owed the city nearly $200,000 in back taxes. It was quietly put up for sale. At this time a group of artist-tenants formed an organization that called itself "Artists for the Preservation of Fenway Studios" and moved to purchase the building from the trust, which owned it.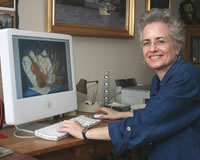 With the generous guidance and expertise of Boston real-estate entrepreneur Bob Kuehn as their consultant, the artists went to their landlord's office on a Boston wharf and dropped an offer on the table, $175,000 in cash plus the assumption of the $200,000 in back taxes. Although the offer was quickly accepted, no bank in Boston would give the artists a mortgage. Interest on the back taxes continued to accumulate, and the city threatened to lock the front door. Kuehn and Edward Abrams, of Abrams Management Company, lent the artists money to keep the doors open.
In 1981, a bank was found in Washington that would put up money for a mortgage and allow physical improvements to the building to begin. A not-for-profit artists' cooperative was founded with monthly payments based on studio size, and a limited- equity cooperative established to set guidelines for the re-sale value of each studio.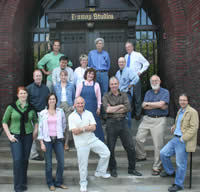 A New York developer made public, in 1998, his interest in building a 41-story skyscraper in front of the building over the Massachusetts turnpike extension that would block the north light of Fenway Studios. A group of Fenway Studios artists felt that if the building were registered as a national landmark building, it could be assured legal protection against such development.
The Washington office of the National Park Service agreed unanimously to accept the building as a National Historic Landmark. The New York developer, incredulous that a handful of artists could defeat a project worth hundreds of millions of dollars, gave up the fight.
Later in that year, exuberance was replaced by alarm when serious structural problems were discovered in the facade of the building, requiring emergency repairs. The resulting rent increases created financial strain for a number of the artists, and the Board of Directors of the Fenway Studios realized that they must seek outside support and expertise. Friends of Fenway Studios was founded late in 1998 to help preserve and restore the landmark building.