BREAKING NEWS


Unique Opportunity to View Works of an Early Fenway Studios Artist
We are pleased to announce that the works of Polly Thayer (Starr) are featured in the opening of Polly Thayer Starr: Nearer the Essence. Polly Thayer worked at Fenway Studios from 1932 to 1936; 6 of her paintings are in the collection of the Boston Museum of Fine Arts. The exhibition features Starr's paintings and drawings as well as rarely exhibited sketchbooks, correspondence, poems, personal objects, and materials on loan from her collection at the Archives of American Art in Washington, DC.
September 8, 2020 - March 8, 2021,
Fruitlands Museum
102 Prospect Hill Road
Harvard, MA 01451


Restoration of the North Facade Complete
Fenway Studios Housing Cooperative and Friends of Fenway Studios are excited that at long last we have been able to complete restoration of the trademark north façade. Grants have been received from the Massachusetts Historical Commission and the Henderson Foundation, and together with a Prupac grant, we were able to complete restoration of the integrity of the building envelope by repairing brickwork and flashing and replacing decayed and inappropriate aluminum sash with high quality, historically accurate windows. The disintegrated water table, window jambs and sills have been rebuilt in this phased construction process.
Award winning preservation architects Spencer and Vogt Group of Charlestown solicited bids from several specialists and work is now complete.
Key to the approval of our grant applications has been the commitment by Fenway Studios Housing Cooperative to create a permanent accessible public gallery/flex space within the building for exhibitions, talks, lectures, meetings, workshops and fundraising, creating a "community benefit."
| | |
| --- | --- |
| | |
| Mortor placed in new watertable | North Building corner, repointed |
| | |
| Completed water table repair North wall | Completed water table repair North wall |


South Window Repairs
Vulnerable windows of this facade have been repaired with only three remaining windows to be installed.
| | |
| --- | --- |
| | |
| Original South wall window before repair | Repaired windows for South façade |


City Hall Grant to Install Decorative Panels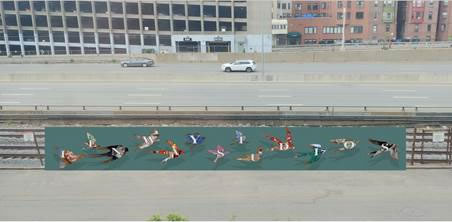 Design for artistic fence to replace existing deteriorated fence
As part of neighborhood improvements, FoFS received a grant from the City to install decorative panels along the fencing on Ipswich St. at the Mass Pike in front of Fenway Studios


FoFS and FSI Applied for B-1 Studio Grant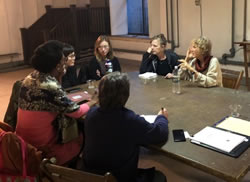 Artists conferring in studio
The joint application by FoFS and FSI for a B-1 studio grant was received well by the Massachusetts Cultural Commission but not awarded a grant. FSI intends to pursue setting up of a lower level studio for use as artists' studios space pending further grant applications.
News & Events


Mary Hughes Fine Art Summer News
2020 has brought a lot of challenges to everyone and making art or thinking about making art has not been on the top of my priority list. In considering what could be useful and important in our current climate, I had a flash sale of older work this past spring. My goal was to donate 50% of all profits to COVID relief funds. Through Facebook and Instagram posts, I was able to reach many of you and I appreciate all the participation! My original goal was to donate $500 but due to the generosity and enthusiasm of my social media pals, the final amount was $1000! This was then split between the Boston Fund and the City of Boston COVID-19 Relief Fund. Many Thanks!!!!
My website has been recently updated to include my newest work. You can check it out here. Long range plans include an updated web site but in the meantime, I have been updating my Etsy site with new work- Mary Hughes Fine Arts. Over the coming weeks I will be adding small works to the site. Our fall open studios at Fenway Studios has been cancelled but we will be doing a virtual event. More details to follow!
My work will be featured several group exhibits this summer. Because of ongoing concerns related to the pandemic, two of the events are strictly virtual. The third will be a real live exhibit! See details below.


First Time Ever Online Sale of 60 Works on Paper by Nan Hass Feldman
July 8th -July 28th, 2020
During this unprecedented time, when it is almost impossible to see art in person, I have been going through and finishing multi-layered mixed-media works from my travels through teaching and elsewhere. I thought it would cheer everyone up to offer these works directly to you for a one-time 50% off discount.
These works are labeled by title, size, and price on my website page LINK
They will be wrapped, boxed and shipped by USPS. All are matted and protected in clear bags.
Wrapping, Handling, & Shipping is added at $25. to cover costs (USA)
Works range from 10"x10" to 30"x30"
Payment by credit card only on Linked Page or 508-380-6222 or [email protected].


Serious Play: Introduction to Color (Online Workshop Series)
Worcester Art Museum
4 sessions
Thursdays July 09 - July 30 , 2020
9:00am - 12:00 noon
Explore the major theories and properties of color and gain practical experience in mixing and using acrylic paints. Exercises have been designed to help you create an abstract painting with recognizable subjects in a colorful and strong composition.


Sketchbook & Travel Journal with Nan Hass Feldman
Danforth Art at Framingham State University
2 sessions
Mondays Aug 10 & Aug 17
9 am - 12 noon
Learn how to capture your memorable everyday and travel experiences quickly and creatively through drawing, collage, and writing. Collect photographs, business cards, brochure pictures, and 2D mementos to preserve your cherished memories and include them in a beautifully designed illustrated journal. Each student will create many pages filled with experiences to remember, plus learn how to make a journal from scratch.


Fenway Studios 'Weekend Celebration' Open Studios 2019
More than 700 enthusiastic visitors spent a glorious weekend (November 9th & 10th) at the National Historic Landmark, 'Fenway Studios,' as the artists welcomed everyone into their creative work and living studio space. The interior design of each studio of the 1905 purpose built artist community structure is as diverse as the talent of each Fenway Studios artist; their mediums include: watercolors, pastels, oils, acrylic, mixed-medium—to name but a few.
The annual FREE community event is an excitingly joyful event that not only spotlights the artists, their work, and the architectural splendor of their grand building, but it is also an event that hosts a Food Drive to benefit the vital work of the Greater Boston Food Bank (GBFB). This year, through the generosity of the artists and our very compassionate public, over 300 pounds of non-perishable food items were collected.
Friends of Fenway Studios founding president, Lynda McNally, after learning of the tremendous work the GBFB provides to Boston and surrounding communities, proposed the Food Drive idea to the artists and immediately they all agreed it was a wonderful way to help serve the community. That was eleven years ago, and McNally said all the artists have committed to host a Food Drive during Open Studios EVERY year! Additionally she shared that ever since the first Food Drive, Fenway Studios artist, Peter Williams, has always delivered all the donated food to the GBFB's headquarters in the South End. As McNally says, "The Fenway Studios artists truly exhibit the art of caring."
Thank you to Harpist, Lishan Tan, of the Boston Conservatory at Berklee, for her stunning performance and gracious manner.
Photographs by Dan Busler Photography
Click photos to enlarge


Listen with your ears...then see with your eyes!
Two Fenway Studios artists, Ed Stitt and Keith Maddy , had their wits tested on air while participating in the lively contest, 'Friday News Quiz,' featured on the always informative and entertaining WGBH/BPR, "Jim Braude and Margery Eagan" radio show.
Friends of Fenway Studios founding president, Lynda McNally, coordinated the opportunity to have the artists appear on Jim and Margery's show, and said everyone at the WGBH, 'Newsfeed,' location at the Boston Public Library are always so welcoming, friendly, and professional. Along with Margery, filling in for Jim during the November 8th, 2019 Friday News Quiz was acclaimed art and culture reporter, as well as host of his weekly WGBH popular show, 'Open Studio,' Jared Bowen.
In between the current events questions, both Margery and Jared engaged Ed and Keith in discussions about their, annual FREE community event, "Open Studios," which was taking place on the 9th and 10th. The artists said they look forward to everyone visiting Fenway Studios so they can experience the 114 National Historic Landmark while enjoying viewing the studios, talking with the artists, and learning about what they are presently working on. They also asked, if possible, if visitors could please bring a non-perishable food item to donate to their annual Food Drive which will benefit the Greater Boston Food Bank.
A fantastic broadcast. Please click this link to hear Keith and Ed with Margery and Jared.


Fenway Studios Artist Nan Hass Feldman Featured in Boston Globe Article
Last year, Boston painter Nan Hass Feldman visited the Museo Rufino Tamayo of Pre-Hispanic Art in Oaxaca, Mexico, and was captivated by the lively, even impish Mesoamerican figurines she found there. The clay sculptures, often made to accompany the dead into the afterlife, chimed with her own ebullient aesthetic. She started drawing and painting them.
When she showed her work to Helen Meyrowitz, who runs the Art Gallery at North Hill retirement community, they struck a chord. Meyrowitz, a 91-year-old North Hill resident and artist originally from New York, opened the gallery in 2012 as a showcase for high-caliber Boston-area artists. As a graduate student of Long Island University in the 1970s, Meyrowitz helped research a pre-Columbian exhibition at the now defunct Fine Arts Museum of Long Island and acquired her own small collection of millennia-old Mexican indigenous art.
Exhibitions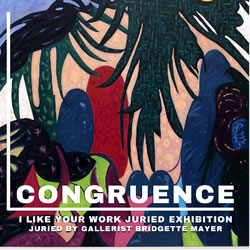 Mary Hughes
Mary Hughes
Congruence
I Like Your Work Summer Juried Show (Virtual)
Juried by gallerist Bridgette Mayer
Summer 2020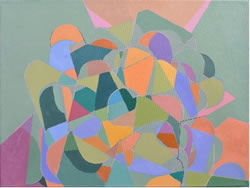 Mary Hughes
Mary Hughes
Reflections
Summer Members Exhibition
Copley Society of Art
July 30 - August 31, 2020